Tiny meatballs in roast tomato sauce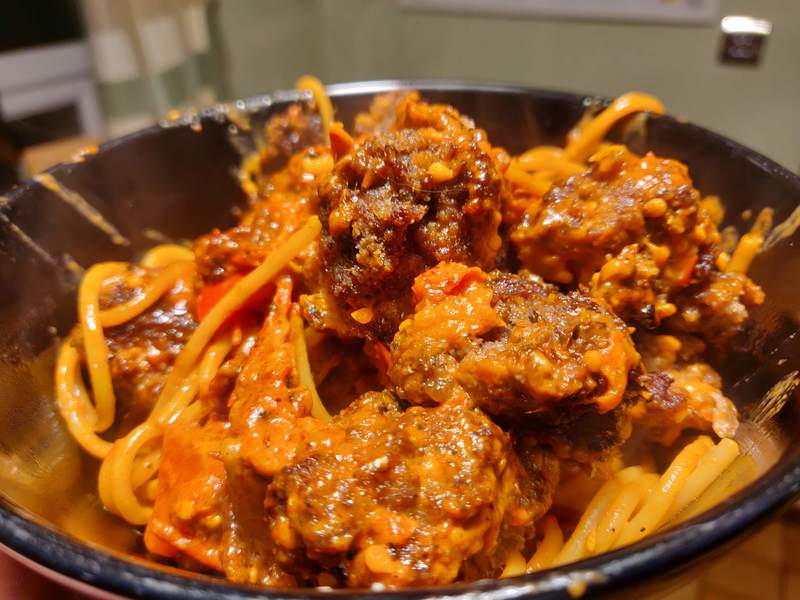 Roughly this time last year I made 5 ingrediant tomato meatballs for the first time and it is excellent, we've had it numerous times. Tonight I decided to enrich it a little with some leftover double cream and tweak the spice mix a bit. It worked out well, hence, a new post.
You will need
The pasty
500g of mince beef
A pack of tiny tomatoes
A red pepper (chopped in 1 inch chunks)
A teaspoon of black pepper corns
A teaspoon of whole dried all spice
A dried chilli
A tablespoon of cream
A good slug of olive oil
A tablespoon of polenda
Spagetti
Do
Pop the oven on 200
Pop the tomatoes and pepper into the oven in a non-stick roasting tin. They need 10 minutes so you have time to…
Grind the allspice, blackpepper and chilli
In a bowl mash the beef, spices, olive oil and polenta with your hands until it's a a smooth paste
Into the tray add the beef in bals made from a heaped teaspoon each.
Cook until the tomatoes and peppers are blackened and the meatballs look almost burnt
Lift out all the vegetables, add the cream and blend roughly spooth (I used our stick blender)
About this time I cooked the pasta
Pour the sauce over the meatballs and return to the oven for about 5 minutes until the edes of the sauce are thickened (don't worry about the extra fat that seems to be swimming out)
Stir the pasta together with the meatballs and sauce and let it sit for a minute or two. Remember to scrape off the stuck on burnt bits. (the best bits)
Result
The sauce is sharp but sharp. The small size of meatballs means that they're crunchy on the outside. Resting it all together before serving gives the pasta a chance to soak up some of the sauce.