Meatballs with roasted tomato sauce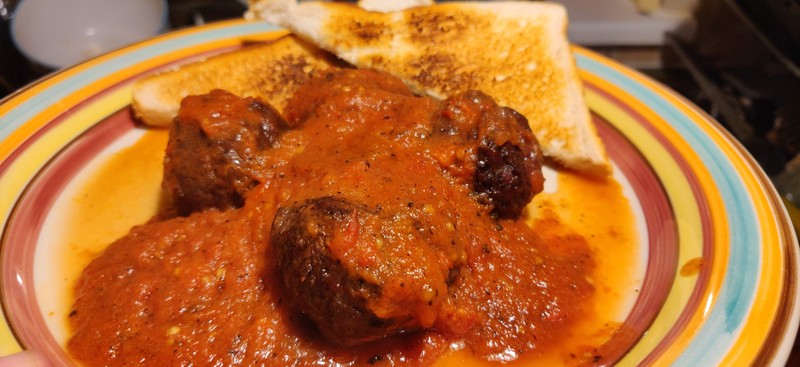 Perfect Plates in 5 Ingredients by John Whaite is a tremendous read and really quite an inspiring book. This dish was very much inspired by it, with a bit more garlic.
This year we bought a very expensive Le Creuset non-stick roasting tin and it's become my go to for everything that goes in the oven, mostly just to save on the washing up. It has been brilliant and I'd buy it again tomorrow.
You will need
500g of minced beef, not the super lean stuff
500g of ripe tomatoes
A couple of chillies (I used the only one I managed to grow this year)
A single clove of garlic
A heaped teaspoon of black pepper corns
A headed teaspoon of dried allspice (whole)
A couple of teaspoons of olice oil
A heafy sinch of flaky salt
Do
Stick the oven on at 180
Half the tomatoes and arrange cut side down in a roasting tin along with the chilli and garlic
Put the roasting tin in the oven
Meantime, grind the spices and mixx with the beef and oil
Mix and pound the meat in a mixing bowl until it's more "paste like", a little bit like Thai fishcake mix
Divide into meatballs. I managed 8, but 12 or 16 might have been better
Once the tomatoes and chilli are blackened tip the lot into a mixing bowl
Add the meatballs to the roasting tin and put back in the oven
Blitz the tomatoes with a stick blender (make sure the garlic is well blended)
After a few minutes the meatballs will have started to colour, pour over the tomato sauce and dot with a few slivers of butter, return to the oven
After about ten minutes, or when the meatballs are cooked through, serve with something to soak up juices
Result
The meatballs should be juice and gently spiced, the tomato sauce should be firey hot. The pounding of the meat leaves it with a springy texture