Improvised squash curry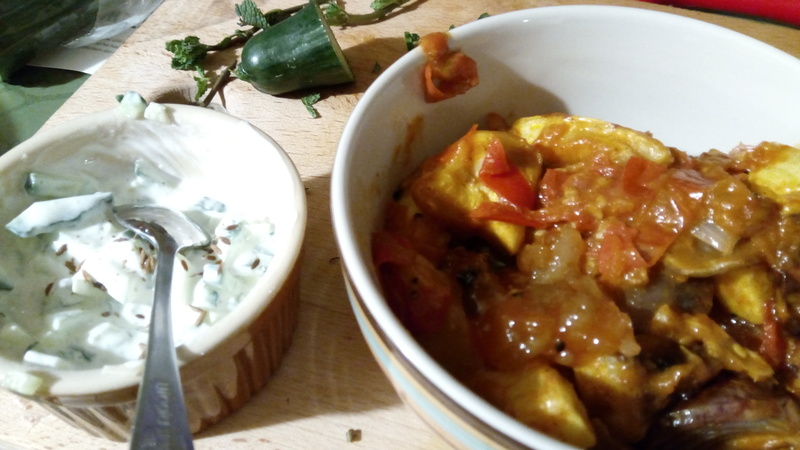 It's the time of year (the week really) when squashes and pumpkins are super discounted. I've generally no idea what to do with them, but I pinched the method that HelloFresh often uses, roasting in the oven and then saucing. This was mostly having a use up of other veg that had seen better days.
The raita here is chunky, with the yoghurt barely coating the cucumber, which should be diced to 2mm or so.
You will need
A squash. Mine was about the size of a cantelope melon. Peeled, centre scooped out, chopped into 2 cm cubes
A couple of small onions (peeled and quartered)
6 cloves of garlic (peeled)
A few mint leaves (finely chopped)
A couple of inches of cucumber (fine diced)
A couple of tablespoons of plain yoghurt
A slug of olive oil
A heaped teaspoon of curry paste (I used Pataks Madras)
A heaped teaspoon of whole spice mix (I used Bengali 5 Spice)
3 large tomatoes (chopped)
A small knob of butter (about a teaspoon full)
Do
Stick the oven on 180
Toss the squash, onions and garlic in the oil
Sprinkle with a good pinch of salt
Pop in the oven for 30 mins until everything is nicely browned
Toast the whole spices in a teaspoon of oil until they pop
Add the paste and sizzle for a minute
Add the garlic (roasted and softened) and tomatoes
Keep it all moving, squashing everything down with a wooden spoon, you're aiming to liberate all the liquid and start to create a velvet finish
Add the butter and stir briskly to give a smooth finish
Add all the roast veg and stir
Stir the mint, yogurt and cucumber together.
Serve with breads
Result
Gently spiced, the sweet squash flavour comes though, the caremalised onions are great mouthfuls, the riata comes in big cool blobs. Even the small amount of butter makes for a smooth and rich feeling sause.
Tastes much more delicious that the photo makes it look.