Super quick squeaky cheese salad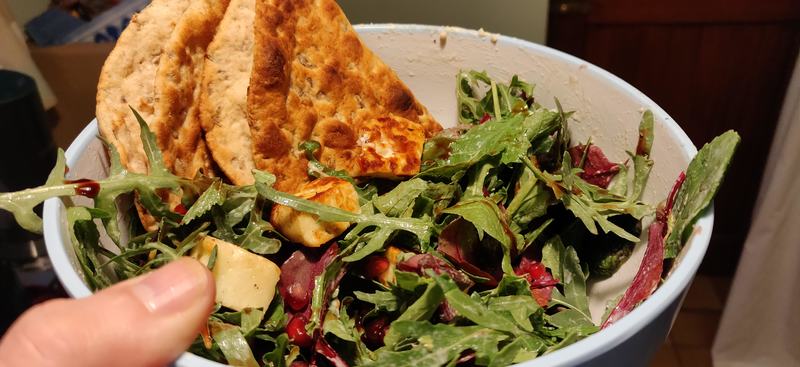 A super quick tea, ten minutes from coming in the door to getting in your face. This is also a super quick write up too, sorry.
You will need
A bag of mixed leaves, I picked up a spicy bitter one
A pack of halloumi, cut into rough cubes (a bit more than a centimetre)
The seeds of a pomegranate (I cheated and used those that come in a tub)
A tablespoon of tahini
The zest and juice of a lemon
Pita breads or some sort seeded flatbreads
Pomegranate syrup for drizzling
Do
Once this gets started it's all hands on deck
Pop the cheese in a hot frying pan with a teaspoon of oil, keep them turning until they are browned on all sides
Pop the flatbreads in the toaster
Whisk the lemon juice, zest and tahini into a smooth paste in a bowl big enough to hold all the ingrediants
Once the cheese is browned dump everything excet the breads into the bowl and stir vigerously until everytihing is coats
Pile it all into or on the breads
Drizzle the syrup over the top
Result
Sweat, sour, salty, crunchy, deep and rich. It's not the prettiest dish because the tahini and lemon is a bit grey A big handful of toasted nuts and seeds wouldn't go a miss.