Rare steak and asian flavours noodle salad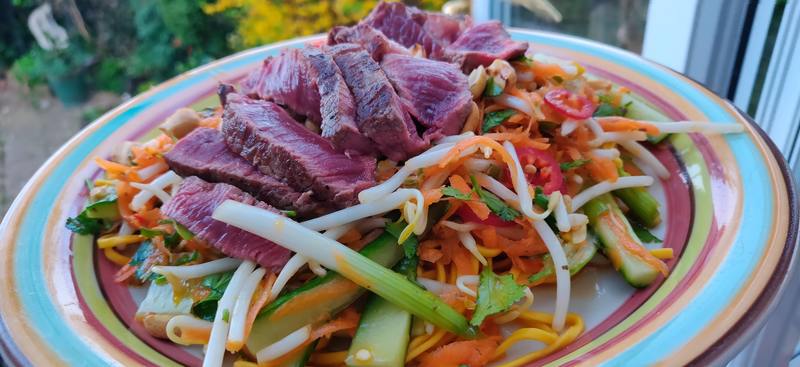 A super quick tea with lots colour, crunch and spice. The rare steak melts in the mouth.
You will need
A small steak of of high quality as possible (this was a 300g filet between two)
A block of noodles
A big handful of beansprouts
3 spring onions, green parts finely slices, white parts sliced into battons
1 carrot grated
A few inches of cucumber, cut into fine battons
1 red chilli finely sliced
1 teaspoon of runny honey
2 teaspoons of soy
1 teaspoon of fish sauce
2 teaspoons of toasted sesame seeds
Half a teaspoon of grazed ginger
The juice of half an oranges
A hard handful of peanuts, ideally unsalted but salted will be ok.
Do
This is another dish tha all comes together at the end very quickly, so do the veg prep in adance
Season your steak well with flaky salt and pepper and set on one side
Whisk the honey, soy, fish sause, oil, ginger, chilli and orange juice well in a large bowl and set aside
Pop the peanuts in a dry frying pan on a medium heat, keep them moving until toasted. If you're feeling adventurious multitask with noodle cooking or even steak frying!
If your noodles need boiling, pop them on and then dump them into cold water to refresh them.
Dump the beansprouts, spring onion, carror, cucumber and noodles into the salad dressing and stir well
Fry the steak in a hot pan for a couple of minutes either side until as well done as you like (in my case, rare)
Let the steak rest for a few minutes
Finely slice the steak and pile everything together
Result
Sharpe, salty, umami rich, hot, sour, chewy noodles, melting steak, this is such a satifying eat.