Jerk spiced beef stew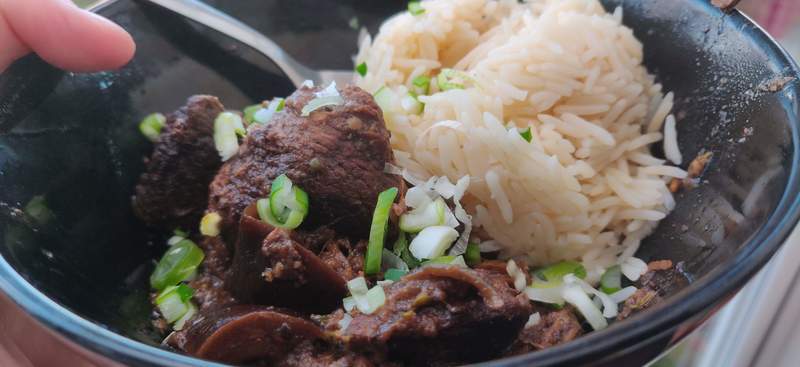 For April is still unfeasibly cold and grey, so I fancied some sunny flavours. Nothing tastes more like the sun that jerk with is sweat chilli, bright thyme and fragrent spices. Sadly I didn't have any pork or chicken in so I tried the same sorts of flavours with stewing beef. Success, though surprisingly hot.
You will need
Dices braising steak roughly diced
2 habinaro peppers finely sliced
A teaspoon of whole allspice
Half a teaspoon of cloves
A couple of heaped teaspoons each of grated ginger and garlic
A handful of fresh thyme finely chopped and pulled off the twig
An aubergine roughly chopped
Do
Brown the beef in a large pan with a few teaspoons of oil until well coloured
Gring the spices
Dump the ginger and garlic into the pan and stir until browned
Dump the spices and thyme and stir
Add a mug of boiled water
Stir round and scrape all the bit off
Stick everything in the slow cooker, including the aubergine
Slow cook for about 4 hours or so
Serve with coconut rice and finely sliced spring onion
Result
Surprisingly dry, very fragrent, surpisingly hot. You need the sweet and sticky rice.