Instant Pot beef Curry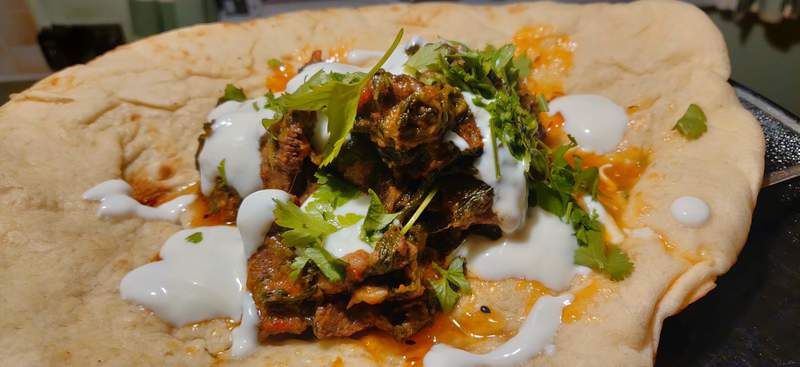 The more I use the Instant Pot, the more I appreciate being able to easily use different cooking techniques without doing more washing up. Recently I've used it a few times to make curries and uncovered the left-right-left of Instant Pot cookery: saute - pressure cook - saute.
The first saute browns onions and meat, making sure you don't have anemic dish. The pressure cooking tenderises meat and results in a great sauce texture from the onions. A final saute then reduced the liquid content to get the right final consistency.
You will need
For the beef curry
A big hanfdul of beef stewing steak cut into 1cm chunks
An onion, roughly chopped
A tablespoon of garlic (I used a frozen block)
A tablespoon of ginger (and another block)
4 blocks of frozen spinach
A big handful of baby tomatoes
A small spoonful of chilli pickle (I used Mr Vikki's King Naga )
To serve
A couple of naan breads
A couple of big spoonfuls of plain yoghurt
A couple of big spoonfuls of mango pickle
A load of snipped corriader
Do
Saute the beef, onion, garlic and ginger for about ten minutes
Stir in the pickle, tomatoes and spinach
Pressure cook for ten minutes
Let the pressure out
Saute for ten minutes
Grill the naans, smear with mango pickle, top with curry and then more yoghurt
Result
The onions have broken down to a velevety finish, the beef is tender, the spicies come though without screamingy hot.