Day long marinades and lightly smoked wings and ribs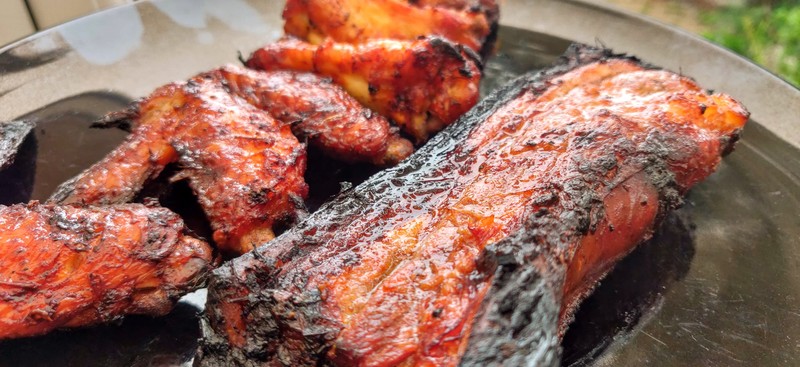 I've not had a lot of time for fun cooking recently, but I've bene really enjoying simply cooked meat on the BBQ with fresh salad. Today though I had the time and headspace to have a play. I realised that I could buy meat at lunchtime, marinade it in the fridge at work and then BBQ it when I get home, after it's 6 hour marinade. Nothing smart, now I write it down, but I was chuffed with myself.
Thus, today I set off to work with a bag of marinade (surprisingly stinky), and popped to the brilliant Block&Bottle and bought chicken wings (3 bone) and a fat slice of pork belly (on the bone). Joel weighed them and then I dropped them straight into my bag of marinade. B&B don't use plastic bags, but if they did, this would have saved a few.
Once I was back in the office I popped the whole lot into the fridge and picked it up at the end of the day. 2 hours of low BBQ later and it was amazing.
This year I've been using my gas BBQ a lot more than my ProQ after a lot of problems keeping the coals topped up. Slow, slow and smoky on gas is surprisingly easy, if a little inauthentic.
You will need
A couple of tablespoons of hot suace - I used Encona Original
A heaped teaspoon or two of minced garlic
A heaped teaspoon or two of minced ginger
A heaped teaspoon or two of runny honey
Chicken wings (3 bone are my favorite because they have the wing tip)
A chunk of pork belly on the bone (like a mega rib)
A big handful of smoking chips (I used apple wood )
Do
Mix all the marinade ingrediants
Stick the meat in the same bag and fridge it for as long as you can (6 hours was fine)
Put the meat on one side of the BBQ, light the gas on low on the other
Pop a handful of wood chips into a smoke box on above the heat
Pop a drip tray under the meat (tinfoil for me. This stops the drips burnt on the hot plate underneith)
Watch of 2 hours. Adjust the heat so it's stilling at about 150 oC. Move meat around so that nothing is burning.
Turn up the heat at the end for 2 minutes to crisp up the edges if needed.
Result
Sweet on the lips. Burning heat when bitten. 2 hours is long enough to start rendering the fat in the pork belly. The smoke is gentle but deep. I should have scored the pork fat every 5mm to make it easier to cut, it went very hard (but delicious)