Spicy dry fried beef with roast tomato salsa taco-a-likes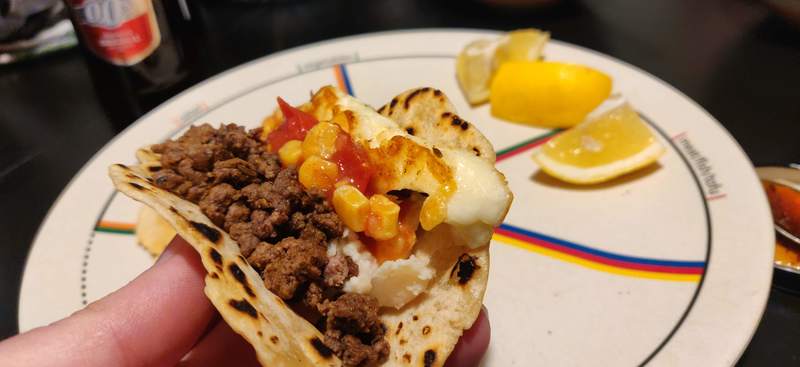 Another using up meal which turned out really well. I firmly believe that food you put togehter with your hands at the table is always the most fun, this being no exception.
You could make endless substitutions here, swaps the types of beans, the meat, the cheese, I suspect so long as you've a combination of meat, spice, bread will work ok.
I can't really claim they're tacos, but I don't have better words for the combo.
You will need
The bread
About 150g of plain flour between two
Enough cold water to bind into a smooth dough
A couple of teaspoons of olive oil
A good pinch of salt
The hummus
A tin of canned beans - I used butter beans but chickpeas, kidney beans, black eye beans have all worked
A couple of heaped teaspoons of tahini
A lug of olive oil
A good squeeze of lemon juice
A pinch of rock salt
The beef
200g of quality miced beef
A heaped teaspoon of ras el hanout
A teaspoon of black pepper corns coursed ground
The cheese
A block of halloumi, cut into slices a little less than 1cm thick
The roast salsa
A handful of good tomatos
A handful of sweetcorn
A green herb (I used parsley)
A couple of teaspoons of hot sauce (I used a California Reaper based one)
Do
The aim here is to get everything to be ready at the same time, which isn't easy unless you've got help. The bonus is that everything except the breads and the cheese will wait whilst you cook the other bits.
The salsa (10 minutes)
Pop the tomatos under a hot grill
Once they'er nearly blackened on the outside add the corn
Once everything is a little black, mash it all and stir though the hot sauce
Chop the green herb and stir though once the salsa has cooled a bit
Set aside until you're ready to eat
The hummous (2 minutes)
Drain the deals
Mash the beans, tahini, lemon juice and a few teaspoons of olive oil until smooth
Stir though the rock salt
The beef (10 minutes)
Get a frying pan reasonably hot
Add a teaspoon of sunflower oil and the mince
Keep it all moving until the beef is nearly browned
Stir thought ras el hanout and black pepper
Keep it moving so the spices down burn
Set aside until you're ready to eat (don't panic that it looks dry)
the cheese (5 minutes)
Get a frying pan reasonably hot
Add a teaspoon of sunflower oil
Fry the halloumi until golden on both sides (a couple of minutes)
The bread (10 minutes)
Mix and kneed flour, oul and enough water to make a smooth dough
Divide it into about 8 balls
Roll out to a few millimeters thick
Drop them into a hot dry frying pan and turn once they start to blister
Result
Fun to assemble. Smear a bread with hummous, sprinkle over some beef, lay a piece of cheese down the side and top with a spoonful of salsa. Finger fold to eat.
Sorry, only one photo, I was too busy eating.