Red roast sausages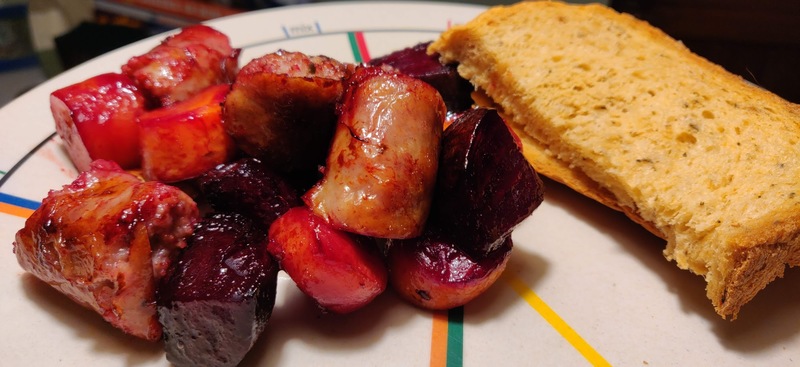 This was inspired by a Nigel Slater recipe that involved a lot of standing at the stove and stirring. Being a lazy and busy man, I shoved it all in the oven and relied on a bit of vigerous stirring at the end. Once again, a really good non-stick roasting tin is the way forward here.
You will need
Enough carrots, skins in, cut into inch sized chunks to cover half the roasting tin
Enough beetroot, scrubbed but skins in, cut into inch sized chunks to cover the other half
Four cloves of garlic, peeled
A tablespoon of olive oil
Enough quality sausage to cover half the tray
Three glugs of pomegranate molasses
Three glugs of red wine vinegar
Salt and pepper
Do
Toss the beetroot, carrot and garlic in the oil in the roasting tin
Give it a good shake of rock salt
Lay the sausage on the top
Put it in the over for 30 minutes
Add the pomegranate molasses and vinegar, give it all the vigerous shake and stir (aim to rough up the edges of the vegetables)
Return to the oven for another 20 minutes of so
Once you're ready to serve snip though the sausages into bite sized chunks and scrape up all the good sticky bits
Serve with some crusty bread and a good dose of black pepper and maybe some more rock salt
Result
Savoury as all heck.