Airfried Halloumi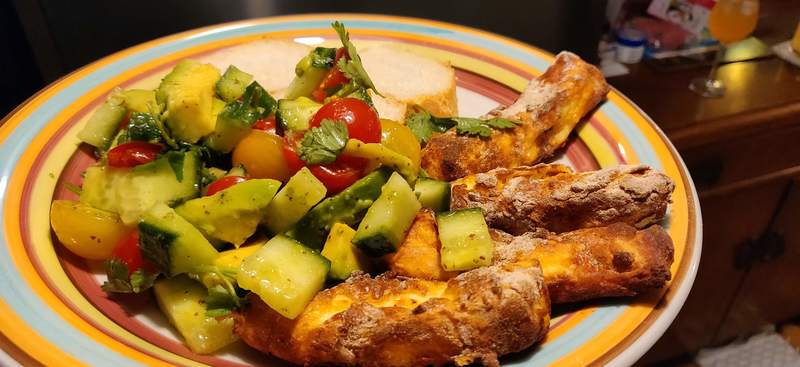 After seeing deep fried halloumi on TV this week, I wondered whether it could be airfried. Good news, it can!
You will need
A block of halloumi cut into chunky chips. I got 8 out of a large slab
A heaped teaspoon of smoked paprika
A heaped teaspoon of onion powder
A heaped teaspoon of ground black pepper
4 heaped teaspoons of plain flour
An egg, whisked
Do
Stick the airfrier to 200oC
Mix all the dry ingrediants on a plate
Dip the halloumi in the egg and then flour mix
If you can get away with it, double dip in egg and flour again
Airfry for about ten minutes until the outside is crisp
Serve with a salad, something with a bit of acid to it
Result
Crispy, salty, chewy and satifying. The ouside was a touch powdery because they've relied on the fat leaching out of the cheese, not been deepfried. Next time I'm going to tumble them in a hot sweet sauce before serving.