Air fried pork chop with super green sauce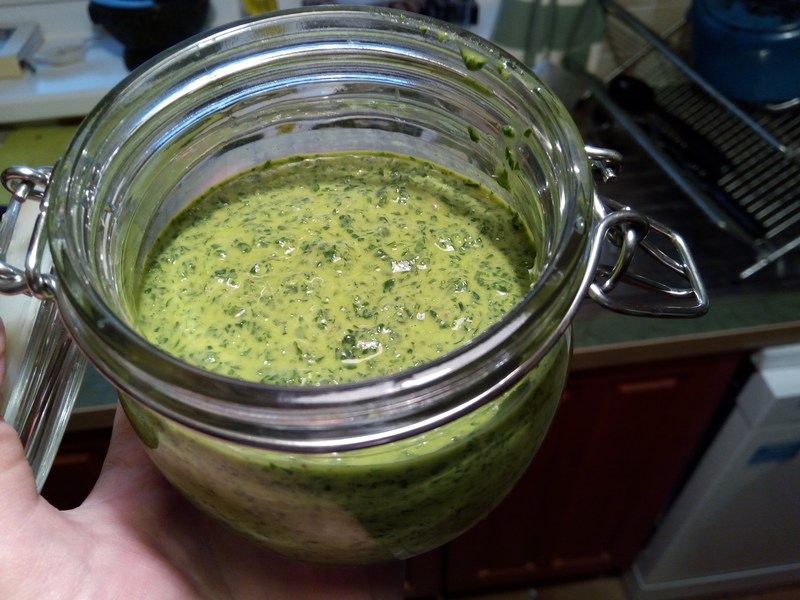 I bought a Phillips Airfryer when it was on sale in the New Year. We'd talked about them for a while but the prce was crazy. £179 reduced to £79 was to tempting. I was hoping for fat free chips, but it turns out they're a myth. After some experimenting, I've come to think of it as more like a super fast fan oven, which is different but interesting, and lends itself well to various cuts of meat. More experiments to come.
Around the same time we ran across a a recipe for "a piquant sause which goes with grilled meats". An idealy match. We've now got a jar of it in the fridge and it's going on everything at the moment.
You will need
A nice fat pork chop, fat cut though so it doesn't curl up
A couple of large bunches of parsley
A bunch of mint (about 1⁄4 of the amount of parsley)
The juice of 2 large lemons
The zest of 1 lemon
A tablesoon of Djon mustard
A heaped tablespoon of capers
About 3 tablespoons of olive oil, maybe a few more
6 anchovies
Do
Put the porkchop in the Arfryer, timer for 20 minutes, temperature 180
Put everything else in the blender on high
Keep scraping the sides of the blender down an add a little more oil if it's too thick
Add more lemon juice if it's not got enough bite
Serve (I had it with creamed spinach)
Result
The poork remains juicy but the fat it crisp on the outside. The thicker fat will have started to render and has that gentle structured squeeze about it, like a pork scratching. The sauce is sharp, herbal and deeply savoury.