Slow cooked North African(ish) lamb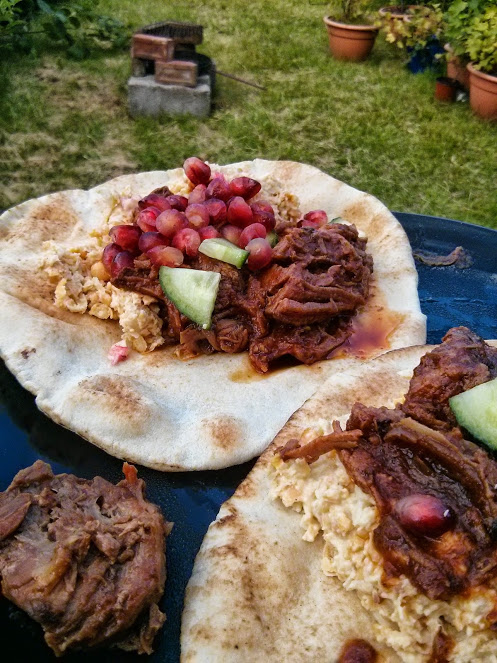 Getting a regular meatbox from the awesome G&S Organics means that we've had a glut of roasting joints in the freezer of late, and much as I love a roast with all the trimmings, they're not the most convenient of foods. I also love things served in or on breads for both ease and taste, so why not combine the two.
After seeing several delicious things like this and this on Closet Cooking (a most excellent read) I started thinking about slow cooking a chunk of lamb in a reasonable plain but Moroccany sauce, then piling it up on flatbreads. Because of the amount of lamb I ended up cooking this also made th next nights meal (post to follow).
You will need
For the lamb
A chunk of lamb. I used a 1.5 Kg piece of leg with the bone in
A 200g container of pasata or a tin of chopped tomatoes
A heaped spoonful of ras el hanout
A squirt of your favorite hot sauce. I used Cholula my go to chipotle sauce.
Hummus
tin of chickpeas (400g)
heaped spoonful of tahini
a spoonful of olive oil
a squeeze of lemon
a good pinch of good salt
To serve
flatbreads of some kind
a pomegranate
Do
Mix all of the lamb ingredients and pop it in the slow cooker
Leave on low for 12 hours (or more)
Mash all the hummus ingredients together. I reserve a handful to add back at the end to be chunky
Warm the flatbread
Pile hummus and lamb onto flatbread, add pomegranate
Enjoy in the garden with a view of the crappy homemade BBQ
Result