White fish with chorizo, chickpeas and cider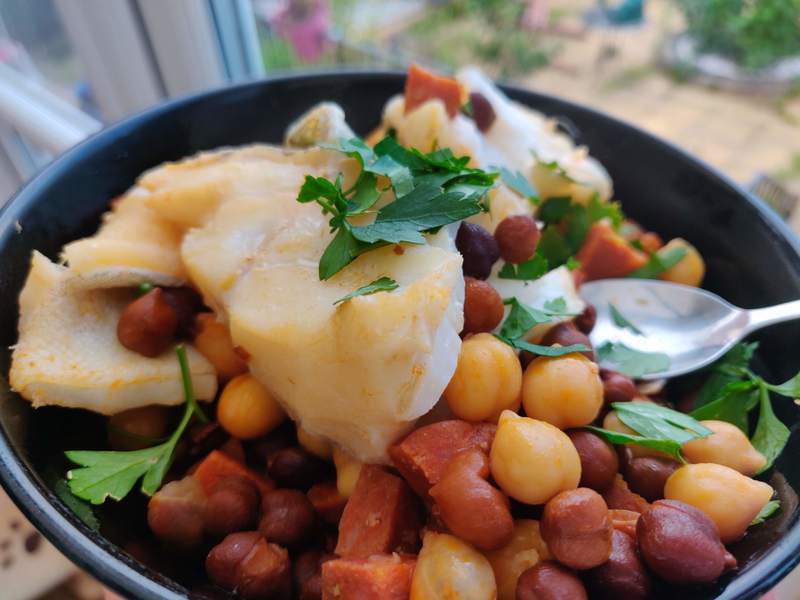 One of my favorite cookbooks at the moment (I collect them so we have a few) is Perfect Plates in 5 Ingredients by John Whaite and recently we ate the chickpeas cooked with chorizo and cider, a marvelously savoury dish.
This evening I remembered reading in one of The Two Fat Ladies cookbooks (and I can't find which one) mentioned cooking fish and pork products togehter, I think it might have been frying fish in lard. Having got a great fish box delivered this week, I stuck the two ideas together.
You will need
2 tins of chickpeas, drained. I used one tin of regular chickpeas and one of Kala Chana, the smaller, darker, nuttier variety
200g of chorizo diced into 1cm cubes
2 pieces of chunky white fish (I think ours was cod)
100ml of stock (I used beef because it was on hand)
200ml of dry cider
A big handful of fresh parsley
Do
Pop the chorizo in a pan wih a pid on a high heat for a few minutes until it's a bit cripsy and the oil has started to run
Add the chickpeas and sizzle for a few minutes
Add the stock and cider, bubble up for a few minutes
Add the fish on the top and half the parsley, pop a lid on and turn the heat down to a gentle bubble
Once the fish is cooked though (maybe 5 minutes) you're ready to go
Top with the rest of the parsley
Result
The fish has steamed nicly and comes away in big flakes. The chickpeas have bite to them but are tender. The sharpness of the cider is a great foil to the oil of the chorizo. Deeply savoury, very satifying.
A chunk of bread with salted butter would have been great to soak up some juices.