Soupy Beans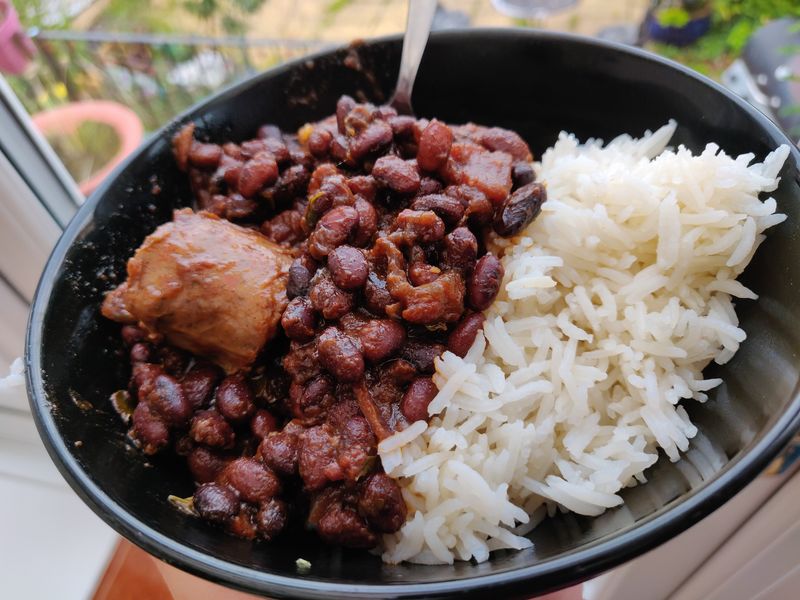 This week I read an artcle about redbeans and rice which looked delicious. I didn't have any of the ingrediants, but the idea of soupy beans cooked with strong flavours and pork sounded great so I improvised.
You will need
250g of strong flavoured sausages (I used Italian hot from Block'n'Bottle ). Sliced into fat rounds (mine were frozen solid so went in whole)
1 cup of dried blackbeans (aka. turtle beans)
1 cup of stock (I used some ham stock from the freezer)
1 cup of some form of tomato sauce (in this case, left over salsa)
1 cup of water
A tablespoon of garlic cloves in butter
A big handful of thyme (left on the stem)
A red onion (finely diced)
A heaped teaspoon of smoked paprika
A heaped teaspoon of hot chilli
A teaspoon of black pepper (ground)
2 bay leaves
Do
Put it all in the InstantPot for 30 minutes high presure cooking
Let it vent on it's own
Slice up the sausages if you didn't already
Give it a good stir and use saute mode to drive off liquid if needed
Fish out the thyme stems and bay leaves
Result
Rich, spiced, smokey, smooth creamy beans. I'd bet it was better the next day but… I ate it all.