InstantPot Biryani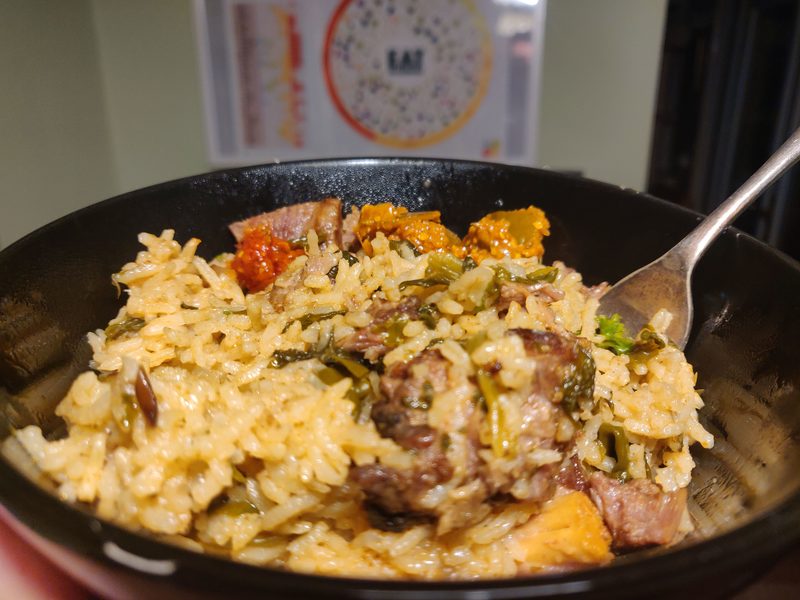 This is probably a complete travisty, but it's a dead easy and super tasty. The InstantPot left-right-left of saute, pressure cook, saute is an absolute winner. In this case the second saute is swapped out for rice cooking. By browning the lamb and then pressure cooking you end up with super tender meat and a delicious broth to cook the rice in. One pot too, so much reduced wshing up!
If you're using lamb neck, cut the meat though to the bone before browning to make it easier to pull off the bone later (I forgot) .
You will need
Some lamb portions (lamb neck in my case)
An onion (sliced)
A block of frozen ginger
A block of frozen garlic
A few blocks of frozen spinach
2 heaped teaspoons of curry paste
A bay leaf
A stock cube
A big cup of rice
Do
Stick the InstantPot on saute and brown the lamb and onion
Stir in a heaped teaspoon of spice paste and sizzle for a few minutes
Add 3x the volume of rice of hot water an the stock cube
Pressure cook for 10 minutes and leave to cool
Pull the meat off the bone or chop into bite sized pieces
Once you're ready for dinner, add the spinach, bay, rice and other teaspoon of spice paste"
Cook on "rice" setting
Stir though any fresh herbs you have hanging about, add a blob of mango pickle, maybe some exra chilli.
Result