Mostly spherical casserole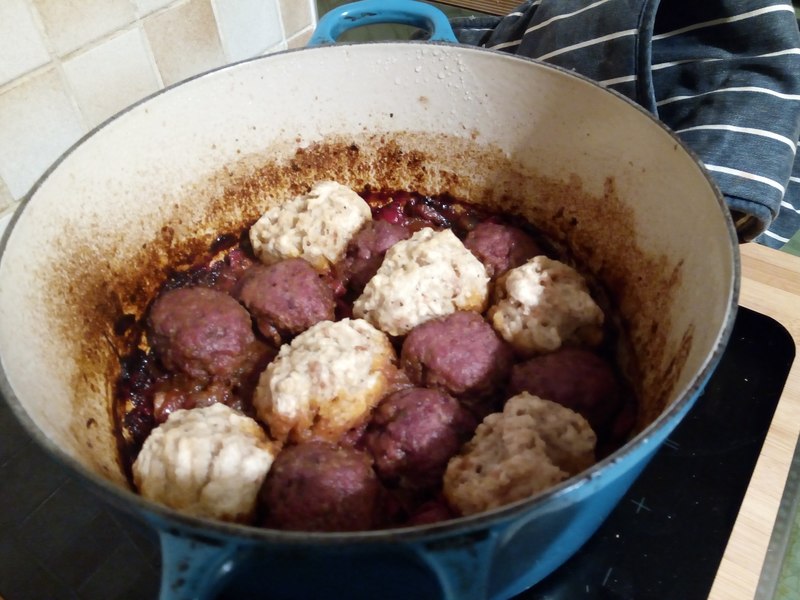 A love a good casserole and there were some excellent meatballs in this months meatballs. Casseroles are also an excuse for dumplings too. Thus, an all spherical dinner! Also a good excuse to use up a slightly aging red pepper and an onion going a bit soft too.
You will need
200g of self-raising flour
100g of suet or cold butter
Half a large onion, diced
A stick of celery, finely diced
A red pepper, sliced
A pack of meatballs
A squirt of tomato puree
Half a stock cube
A small glass of red wine
A fat clove of garlic fine sliced

A handful of little tomatoes

Do
Soften the celery, onion and garlic in a couple of teaspoons of oil (I used the oil from a jar of sundryed tomatos)
Add the pepper and tomatoes amd cook for another few minutes
Add the stock, wine and a mug full of hot water, bring to a gentle boil then pop it in the oven at 160 for an hour or so
Add the meatballs to the top and put back in the oven for 20 minutes
Mix the flour and suet with a good griding of black pepper and a good pinch of salt
Add enough cold water to bind and form into balls a little smaller than golf balls
Add to the casserole, remove the lid and return to th oven for 20 minutes or so.
Serve once the dumplings are risen and golden, the liquid mostly gone.
Result
The long cook liberates a lot of the fat from the meatballs, resulting in a rich velvet sauce. The pepper and slow cooked onions give a real sweetness. The sphericality is pleasing.
No inprogress pictures sorry. Also, my cameraphone appears to be getting worse with time.