InstantPot Shin Beef Chilli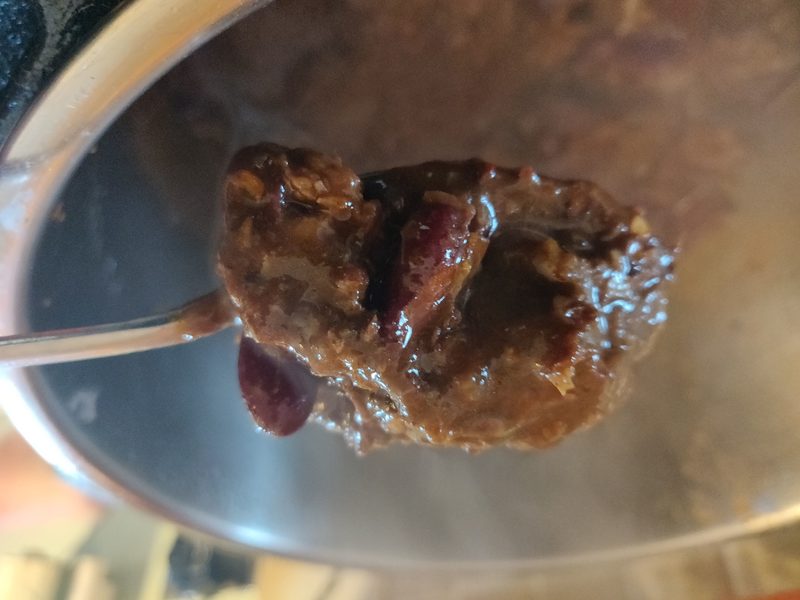 I've written about shin beef chilli in the past, but when a big chunk of shin landed in our meatbox I couldn't resist giving it the InstantPot treatment. The result was delivcious and the process was different enough to warrent writing up.
You will need
A serious chunk of shin beef. Mine was about a kilo, separated into it's primary muscles, diced into 1 inch cubes
A tablespoon of plain flour
A medium onion finely diced
2 heaped teaspoons of oregano
2 heaped teaspoons cumin seeds
1 heaped teaspoon of ground black pepper
1 heaped teaspoon of hot paprika
1 heaped teaspoon of hot chilli powder (or 1 fresh birdseye in my case)
2 big dried smoked chillis (mine were a Guajillo and an Ancho), sliced up
4 squares of dark choclate
1 heaped teaspoon of quality instant coffee or a measure of fresh espresso
5 cloves of garlic, finely sliced
An inch off a block of lard (about 50g)
A tin of kidney beans, drained
Do
Soak the dried chillis in a mug of boiling water for about an hour
Flour the meat, make sure it's well coated
Pop the InstantPot on high heat saute
Brown the meat. It'll take about 10 minutes, you want a good colour.
Add the garlic and the onion and continue sizzling for 5 mins
Clear a space in the middle of the pot, let the fat pool and drop all the spices into it. Sizzle for another minute or so.
Add the mug of chillis (including the water), the chocolate and the coffee
Switch the InstantPot to slowcooker for 5 hours. Give it a good stir after an hour to mix it all.
(Wait 5 hours)
Remove the lid, saute for 10 minutes of so to reduce he liquid content if you need to.
Season if needed. Mine could have done with a touch of salt and lime.
Result
Pictures speak louder than words.