Fakeaway vindaloo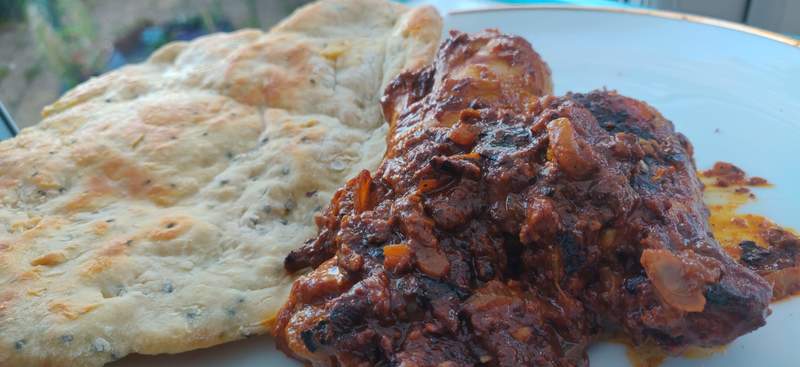 Another Friday night fake takeaway, though this time probably just as unhealthy as the bought variety. I realised I'd never had a vindaloo before, always writing them off as too hot (and thus generally not very flavoursom), but the combination of pork and mustard always sounded good. Hence I made a chicken one, because that's what I had in.
I've no idea how authentic this recipe is, it's a bit of a mashing up for several I found online. Don't be put off by the huge numer of spices, with the exception of the tamarind they're all pretty commonly used so they won't wste away in your cupbaord.
You will need
Naans
I did this by eye, so no weights and measures I'm afraid
White bread flour
A teaspoon of sugar
A good pinch of salt
Half a teaspoon of ready yeast
A heaped teasponn of nigella seeds
Plain yoghurt
A few teaspoons of butter
The vindaloo
A couple of teaspoons of Kashmiri chilli powder
A heaped teaspoon of coriander Seeds
A heaped teaspoon of sweat cinnamon
3 cloves
5 or so green cardamom pods
A teaspoon of black peppercorns
A teaspoon of cumin seeds
A couple of mustard seeds
A couple of inches of ginger grated
A teaspoon of ground tumeric
A couple of teaspoons of tamarind paste
A good slug of white wine vinegar
About 5 cloves garlic
A large onion finely chopped
A heafty squirt of tomato puree
A good slug of vegetable oil
4 chicken portions (in my case a couple of thighs and drumsticks)
Do
Kneed the flour, sugar, salt, yeast and nigella seeds together with enough 50⁄50 yoghurt and water to make a smooth dough
Divide in too and flatten them out with your palm and set aside until you're ready for them
In a dry frying pan on a low heat stir all the whole spices until they are fragrent (the mustard seeds will start to pop)
Bung in all the powdered spices, stir quickly and take it off the heat before it starts to smoke
Pour it all into a mortor and grind
Mix in the tamarind to make a paste
Pop the chicken and oil into a frying pan (just rince out the last one and save yourself the washing up) on a medium heat until the chicken is browned on the outside
Add the onions to the middle of the pan, turn the heat down and keep cooling until the onions are translucent
Add the garlic and ginger and stir round for a bit
Add the spice paste and sizzle that a bit too
Add the tomato puree, vinegar and a cup of water, bring it to a gnelte boil and then turn the heat right down
Pop the oven on 180oC and then stick the naans in to cook
Went the naans are looking ready, drop the butter into the hot tray, once it's melted flip the naans in it
Serve
Result
Just a little too greesy, very spicy, nicely bitter. The chicken comes away from the bone, the onion has broken down enough to to form a velvety sauce. The naans should have puffed up but have a slightly "layered" texture.