Easter Bread & Butter Pudding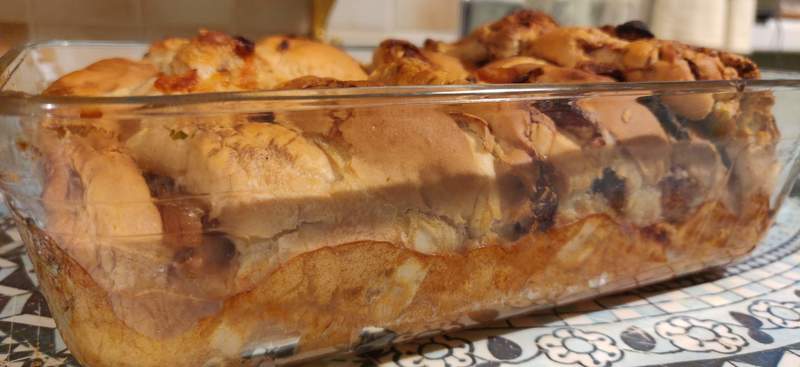 I love bread and butter pudding and I love hotcross buns, so when I left a pack of hotcross buns out and they went stale there was only one option - another using up combo recipe.
Bread and butter pudding is basically stale bread in a slightly sweetened custard. We had 2 jars of marmalade that had very little left in them, so I made use of them too. To reduce the washing up I used the jars to make the custard (egg and milk in the jam jar and shake)
You will need
6 hotcross buns
An egg (maybe 2 depending on the size of the buns)
A couple of desert spoons of marmalade (or sugar)
About half a pint of milk (ideally full fat)
Butter or easy spread butter-a-like
Do
Pop the oven on 180
Slice th hotcros buns as normal and butter lightly
Whisk the milk, eggs and marmalade (or just shake in the jar!)
Arrange the buns in an oven proof dish
Pour over the "custard"
Leave to stard for a bit to everything soaks into the buns
Bake until golden (30 mins roughly for me)
Result
The top is crunchy, the body absorbs the custard which sets and is deliciously wobbily. It's sweet without being cloying and the spice, orange and fruit work well together. It smells amazing. A little more custard would have been good. A bit of lemon peel and maybe a spoonful of brown sugar wouldn't have gone a miss.